Top Pediatrician in Apple Valley, CA
Dr. Shima Hadidchi MD cares for all aspects of your child's health. She provides comprehensive and specialized care. For more information, contact us today or book an appointment to see our doctor! We are conveniently located at 18112 Wika Rd, Suite 102, Apple Valley, CA 92307.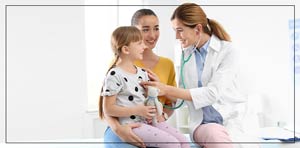 Table of Contents:
Why should you see a pediatrician?
When should I take my child to a pediatrician?
What can the pediatrician help with?
How often do newborns see the pediatrician?
Why should you see a pediatrician?

A pediatrician will be relied upon to care for your child in various aspects of their life.

Continuity of care is an essential component of pediatric care. Pediatricians prescribe preventative (and possibly reparative) treatments throughout childhood. In order to do this well, they need complete medical records. By doing so, your pediatrician ensures that he or she has a complete history of your child's vaccinations, treatments, allergies, and conditions. This information is vital to preventing certain mishaps, such as an allergic reaction to a vaccine recommended by your doctor. Your child's health depends on continuity of care and good records.

You can see your child's development as he or she grows by looking at the pediatrician's record. Pediatric treatment focuses on ensuring your child's health and happiness throughout his or her life through growth and development.

Pediatricians provide vaccinations for diseases such as smallpox, measles, mumps, and others. Enrolling your child in school or participating in activities also requires a record of these immunizations.

Injuries and illnesses such as sports injuries, falls, and sickness are treated. Finding a pediatrician you can trust is essential for a quick, complete recovery.

Various physicals are provided by pediatricians for school, sports, and youth activities. Pediatricians are very familiar with these physicals, so there is less chance of something being missed than with a doctor unfamiliar with kids. As a result, a pediatrician can help your child prepare for all the fun activities they will experience during their childhood.
When should I take my child to a pediatrician?

Pediatricians are doctors who specialize in diagnosing and treating childhood illnesses. Additionally, they are trained to understand how a child is developing emotionally, socially, and physically. As soon as a child reaches the age of two, they will schedule regular appointments with a pediatrician (every few months). Appointments will then be scheduled for yearly wellness checkups, which are essential to ensure their health.
What can the pediatrician help with?

Each child is unique. Every individual has different talents and interests, as well as different medical needs. By choosing Dr. Shima Hadidchi MD, you will ensure your child receives the best medical care possible. Pediatricians specialize in treating children.

Children need more than just medical care from their pediatrician, the best ones will make sure they are well taken care of in all aspects of their lives. In addition to providing treatment, they also create a comfortable environment for your child to visit the doctor. Your child's pediatrician must be chosen carefully and stayed with.
How often do newborns see the pediatrician?

In the first few weeks after your baby is born, you will take him or her to a primary care provider (a health professional who provides day-to-day health care and advice). Pediatricians, family doctors, nurses, or midwives can be your primary care providers. Your child's primary care provider will likely be the first person you turn to when you have questions or concerns about your child.

You should take your baby to the doctor regularly at two, four, six, nine, twelve, and 18 months old, then once a year until he or she is five years old. After your child turns five, they should see the doctor every year or two until they turn 18.

Well-baby/child visits usually last between 10 and 20 minutes. During a well-baby/child visit, your pediatrician will do a physical check-up on your child, taking their weight and examining vital signs. They will ask about overall social and mental development, such as speech development. Eating patterns will be discussed and more. In short, a visit to a pediatrician checks in on every element of your child's development.

Pediatric services are available at Dr. Shima Hadidchi MD Family Practice. Contact our clinic today to schedule a meet-and-greet and meet your new primary care doctor! We serve patients from Apple Valley CA, Victorville CA, Adelanto CA, Hesperia CA, Crestline CA, Highland CA, and Barstow CA.