Top Reasons to Visit Pediatrician in Victorville CA
Dr. Shima Hadidchi MD is a highly skilled pediatrician known for her exceptional care and commitment to children's health. With a warm and compassionate approach, she strives to create a positive and comfortable environment for young patients and their families. To schedule an appointment please contact us or request an appointment online. We are conveniently located at 12740 Hesperia Rd. Victorville, CA 92395.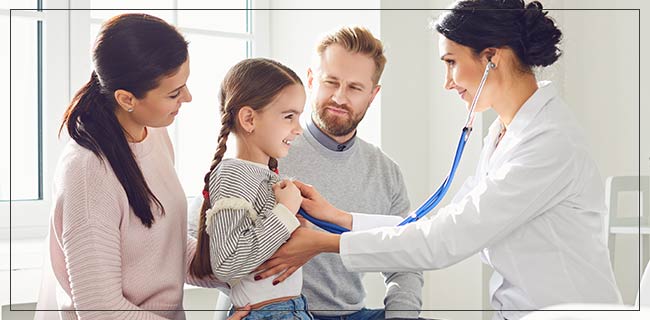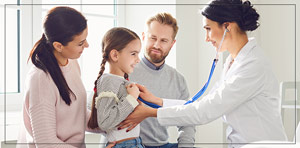 Table of Contents:
What are the most common pediatric conditions?
Why should you visit a pediatrician?
What illnesses and injuries do pediatricians treat?
How to find a top pediatrician in Victorville CA?
What are the most common pediatric conditions?


There are several common conditions that kids experience. These conditions vary in severity, but with proper medical care, most children recover quickly. Some of the most common pediatric conditions include:

• Respiratory infections – Conditions like the common cold, bronchitis, and pneumonia are frequent among children due to their developing immune systems.

• Ear infections – Ear infections, particularly in the middle ear, are common in young children and can cause discomfort and temporary hearing loss.

• Allergies – Conditions such as asthma, hay fever, and food allergies are prevalent in children and often require ongoing management.

• Skin conditions – Eczema, rashes, and other skin conditions can affect children, often due to allergies, irritants, and genetic factors.

• Gastrointestinal issues – Conditions such as gastroenteritis, constipation, and acid reflux affect a child's digestive system and can require medical intervention.

• Behavioral and developmental disorders – Attention-deficit hyperactivity disorder (ADHD), autism spectrum disorders, and learning disabilities are among the most common behavioral and developmental disorders in children.

Why should you visit a pediatrician?


Visiting a pediatrician for your child's healthcare needs offers numerous benefits, such as:

• Specialized expertise – Pediatricians are medical doctors who specialize in children's health. They have extensive knowledge of child development, growth, and pediatric conditions, which allows them to provide the best care for your child.

• Preventative care – Pediatricians focus on preventative care, including regular check-ups, immunizations, and screenings. These proactive measures prevent illnesses, monitor growth and development, and ensure early detection of health issues.

• Developmental guidance – Age-appropriate milestones, as well as nutritional and behavioral considerations, will be discussed by the pediatrician. The doctor will address your concerns and offer support in promoting your child's healthy development.

• Continuity of care – By establishing a relationship with a pediatrician, you ensure continuity of care throughout your child's developmental stages. As the pediatrician becomes familiar with your child's medical history, they can provide more personalized and consistent care.

• Family-centered approach – Pediatricians understand the importance of a family-centered approach. They involve parents or caregivers in decision-making, provide education and resources, and foster a supportive environment for the entire family.

What illnesses and injuries do pediatricians treat?


Pediatricians diagnose, treat, and manage a wide range of illnesses and injuries that affect kids. They provide comprehensive care for various pediatric conditions, such as:

• Common childhood illnesses – Pediatricians diagnose and treat common childhood illnesses such as colds, infections, bronchitis, asthma, and allergies.

• Injury care – Care for minor injuries such as cuts, bruises, sprains, and minor fractures is provided by pediatricians. Additionally, they guide parents on injury prevention strategies and safety measures.

• Chronic conditions – Pediatric doctors treat chronic conditions like diabetes, eczema, and attention-deficit hyperactivity disorder (ADHD).

• Growth and developmental concerns – A pediatrician will assess and monitor the child's growth and development. They can address concerns related to delayed development, behavioral issues, and learning disabilities.

• Immunizations – Pediatricians administer routine vaccinations according to the recommended immunization schedule. This ensures children are protected against vaccine-preventable diseases and promotes overall health and well-being.

How to find a top pediatrician in Victorville CA?


When it comes to finding a top pediatrician in Victorville, CA, many consider Dr. Shima Hadidchi MD to be the best. Dr. Hadidchi's qualifications and experience make her an excellent choice for pediatric care. She is board-certified in family medicine and has extensive experience in treating a wide range of pediatric conditions. Her expertise includes preventative care, routine check-ups, and management of acute and chronic illnesses.

Dr. Hadidchi has top-notch professionalism, thoroughness, and the ability to connect with children. Her dedication to providing holistic care ensures that each child receives the attention and treatment they deserve.

Our clinic offers a welcoming and child-friendly environment. The facility is equipped with state-of-the-art medical technology and a caring staff dedicated to making each visit a positive experience for families. Give your child the best possible care from a top pediatrician who genuinely cares about their wellness. We serve patients from Victorville CA, Apple Valley CA, Adelanto CA, Hesperia CA, Crestline CA, Highland CA, and Barstow CA.