4 Questions to Ask Your Pediatrician
A pediatrician is a medical doctor who sees the needs of infants, children, adolescents, and young adults. Visit Dr. Shima Hadidchi MD Family practice for more information. Call us or schedule an appointment online. We are conveniently located at 12740 Hesperia Rd. Victorville, CA 92395.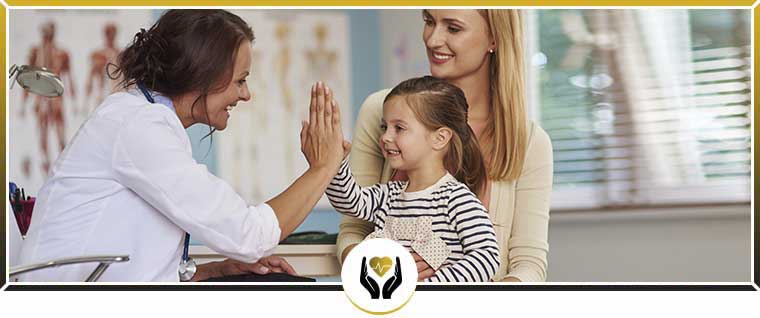 If you are new to the world of pediatric care and would like to know more about what to expect when bringing your child to see a pediatrician, it may seem challenging to know what questions you should ask. To get you started, here are four questions you can ask your pediatrician to learn more about pediatric services.
What Is a Pediatrician?
A pediatrician is a medical doctor who specializes in the prevention, diagnosis, treatment, and management of illnesses, injuries, and conditions that affect infants, children, and adolescents, as well as a distinct focus on the health promotion of individuals within that age group.
To become a pediatrician, an individual must go through four years of medical school, followed by an additional four years of training in a pediatric or family medicine residency. The main difference between a pediatrician and a family medicine doctor is that pediatricians only see children, while family medicine doctors see both adults and children. As such, their residencies cover similar but different materials.
With that in mind, pediatricians provide a wide variety of services and treatments to children and adolescents. In addition to any treatments your child requires for any illness or injury they are dealing with, pediatricians provide well-child visits and annual checkups.
A well-child visit is for children between the ages of two to five and consist of physical exams, immunization updates, monitoring for physical, social, and emotional developmental milestones, diagnosing and treating any illnesses, infections, or health issues they are experiencing, providing guidance and information for your child's health, fitness, safety, and nutritional needs, and answering any questions you have about their growth and development. Annual checkups are similar to well-child visits except that they are tailored to the needs of older children and adolescents.
Why do I need a pediatrician for my child?
It is important for your child's continued health and well-being to have a pediatrician or family medicine doctor who they can go to for any of their medical needs. Not only does this provide stability, which is important for any child's development, but there are also health benefits when a child is able to develop a patient-practitioner relationship with their doctor.
Owing to this relationship, their pediatrician will be able to detect changes in their health with greater accuracy than doctors who are unfamiliar with your child's health. For this reason, it is especially important for your child to have a pediatrician or family medicine doctor if they have any chronic illnesses that need to be monitored on an ongoing basis.
How often should my child see a pediatrician?
After your child's 2nd birthday, they should see a pediatrician at least once per year for a well-child visit or annual checkup, in addition to other appointments to address specific health issues. Before their 2nd birthday, visits to the pediatrician will be much more frequent. The generally recommended schedule that you should follow for pediatric appointments before your child's 2nd birthday is as follows:
Three to five days after birth
One month
Two months
Four Months
Six Months
Nine months
One year
18 months
Two years
Where to find a good pediatrician near me in Victorville, CA?
If you are looking for a good pediatrician for your child in Victorville, CA, we welcome you to visit our clinic at Shima Hadidchi, MD, to see if we are a good fit for you! You can find the clinic of Shima Hadidchi, MD, at 12740 Hesperia Rd in Victorville, California.
For an appointment or more information about our pediatric services at Shima Hadidchi, MD, please feel free to call us or schedule an appointment through our website! We serve patients from Victorville CA, Apple Valley CA, Adelanto CA, Hesperia CA, Crestline CA, Highland CA, and Barstow CA.